Duty Uniform - Woodland BDU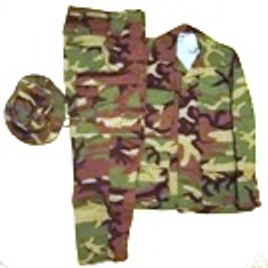 This is the standard uniform of the Troop. Members have the option of 50 / 50 nylon / cotton, or 100% cotton ripstop in the adopted pattern. The closest commercial pattern to the Defense Personnel Support Center pattern is made by PROPPER. Members should obtain at a minimum:
1 "boonie hat"
2 BDU Jacket
2 BDU Trousers
The following insignia are worn on the uniform; Right Shoulder, half inch from the shoulder seam - TX Flag in color (flying reversed), while prior Federal service personnel, may wear the US Flag displayed likewise, and combat unit patch (optional) IAW AR 670-1. Name tape (last name in all caps) is worn over the right breast pocket, and Troop members wear the tape "DAL CITY TRP" tape over the left breast pocket (prior Federal service may wear tape of their active or reserve service branch). Unit patch to be worn on the left shoulder by members of the Troop. Rank worn on collar (Army style - prior service Marines wear USMC style insignia) as directed.
Alternate Uniform - DCU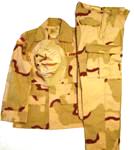 An optional standard for winter wear or operations in less wooded terrain, is the DCU pattern. The individual has the choice of fabrics and collar cuts to suit at his pleasure. The rip-stop Defense Personnel Support Center pattern is preferred. PROPPER is the preferred commercial supplier. Material is 50 / 50 nylon / cotton.
Insignia are worn in the same location as on the BDU, with the option of black color on sand backing, or brown color on sand backing.
DCU pattern MOLLE gear may be worn with this uniform.
Field Jacket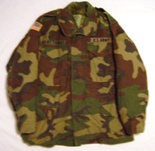 The M65 Field Jacket in woodland pattern with same insignia as worn on the BDU uniform. The button in nylon liner provides additional warmth in cold weather.
As an option, the M65 DCU Field Jacket may be worn when the DCU uniform is worn. Insignia of the same type and placement as for the DCU uniform.
Wear of the ECWCS parka is place of the field jacket is also an option, as the Goretex membrane provides capable insulation.
Boots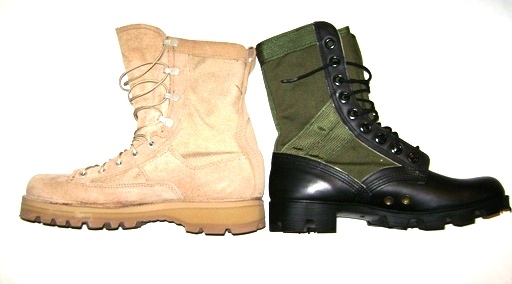 The style of boot is left to the choice of the individual. "Jungle" style with the Panama sole and the tan Desert boots made by Belleville, Altima, Danner, Bates, or Wellco are the most poplular choice among members of the Troop.
Underclothing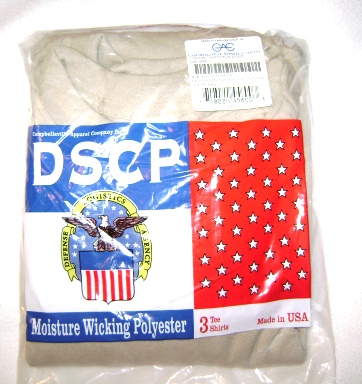 The current issue tan T-Shirt, Moisture-Wicking, Army is recommemded as an improvemment over the previously worn 100% cotton brown t-shirt, which may be worn as a more cost effective alternative. The new forest green 100% cotton t-shirt is now preferred over the formerly issued brown cotton shirt.
Socks may be the current issue tan wool anti-fungal or the previous green wool/nylon blend cushion sole.